SHOW UP NORTH: Speaker profiles
---
---
The Show Up North conference will be an exclusive opportunity to get to grips with how faith and politics can relate with input from MPs, Councillors, theologians and others.
Here's a little bit about just some of the speakers you'll be hearing from:
---
Jonathan Reynolds MP
Born in the North East, Jonathan Reynolds joined the Labour Party while at school. Soon after, he moved to Manchester to study, which he described as one of the best decisions of his life. He graduated with first class honours in Politics & Modern History, having also experienced politics for the first time by being elected to the Students' Union Executive.
After Universty, Jonathan worked at Stockport Council as an assistant to the Labour Councillors, then for an MP and was also elected to the National Executive (NEC) of the Labour Party to represent young members. Jonathan feels strongly about encouraging young people to get involved in politics and the world around them.
In 2007 Jonathan started a Graduate Diploma in Law and was also elected to Tameside Council. Then in 2010, a month before the General Election, he was selected as the local Labour Party candidate, holding the seat for Labour and resigning his legal career to become an MP. As an MP Jonathan is motivated by a belief that a compassionate society and a strong economy go hand in hand.
Twitter: @jreynoldsMP
---
Dr Dave Landrum
Dr Dave Landrum is Director of Advocacy for the Evangelical Alliance and was previously Parliamentary Officer for the Bible Society.
He grew up in Bootle, Liverpool, where he left school without any academic qualifications. After becoming a Christian nearly two decades ago, he went on to gain a first-class degree in contemporary politics and urban policy studies, before completing a doctorate in politics and policy process in education.
Well-respected in parliament, Dave's passion is to see Christianity making an impact on society by being at the centre of political, cultural and economic life.
Twitter: @DrDaveLandrum
---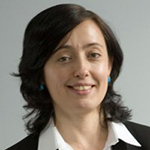 Cllr Tanya Burch
Originally from Ukraine, Tanya Burch is a councillor of Salford City Council where she chairs the Community and Neighbourhoods Scrutiny Panel, serves on Overview and Scrutiny Board, Employers Forum as well as on Growth and Prosperity Scrutiny and Planning Panels.

Raised as an atheist in communist Ukraine, Tanya became a Christian while at university. Since then, following God's exciting plan for her life, she has become a Russian and Ukrainian interpreter for the Ministry of Justice, presented several episodes of the children's programme 'Snuggle' on TBN and organised events to reduce youth unemployment.

Having seen the power of the nation coming together to overthrow the dictatorship to pursue democracy, Tanya is passionate about encouraging people of all ages and backgrounds to get involved in politics and become the change they want to see in their communities.
Twitter: @tanyaburch
---
Gareth Wallace
Gareth is the Executive Director of the Conservative Christian Fellowship. Prior to leading the CCF, Gareth worked mainly in the Christian charity sector, lobbying on matters concerning social engagement, religious liberty and poverty alleviation. His previous role was Policy Advisor for the Salvation Army. He has also worked for the Evangelical Alliance, the Oasis Trust and Faithworks.
Gareth is currently Deputy Chair (Political) for Vauxhall Constituency Conservative Association. He attends St Mark's Battersea Rise, and is a Night Pastor in Clapham Junction.
Twitter: @garethrwallace
---
Sarah Dickson
Sarah is the Director of the Liberal Democrat Christian Forum. She spent 3 years studying Social Anthropology in Manchester before working for Christian Aid's advocacy and campaigns teams. It was there that she saw the impact of political decisions on the lives of some of the poorest and it was there that her enthusiasm for political engagement (and then the Liberal Democrats!) was born!
Sarah campaigns locally where she lives and is part of a church in North West London.
Twitter: @sarahjdickson
---
Andy Flannagan
Andy Flannagan is a London-based, Irish singer-songwriter who was previously a hospital doctor but whose proudest moment as an Irishman was captaining England's Barmy Army during the Ashes in Australia. His campaigning songwriting dragged him into the political arena, so he can often be found annoying MPs around Parliament as the Director of Christians on the Left and one of the Co-Directors of Christians in Politics.
Andy is a passionate communicator demonstrated in his recent book, Those Who Show Up, which challenged Christians to get off the side-lines and onto the pitch of political life. In his foreward to the book, Archbishop Justin Welby said "Andy is reaching out, inspiring and equipping us to become engaged in a system that affects us deeply, and through which we in turn can affect radical and transformational change across society".
Twitter: @andyflannagan
---